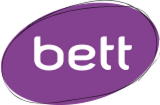 With Christmas a dim and distant memory, our thoughts turn to the OTHER highlight of the year - the BETT show!
Naturally as edtech enthusiasts we are on our way to London to see what's new in the world of technology and we'll be covering some of what we find on our social media pages.
Remember - if you're not following us on Facebook, Twitter and Linkedin please make sure you do so we can keep you up to date with our exciting developments for 2019 and beyond.
If you're visiting BETT make sure to let us know and enjoy the show - just don't forget your comfy shoes!
---