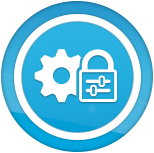 Security Audit and Tools
Now more than ever, security of data and systems is vital – students must be protected from unsuitable content but still allowed to make the most of the latest technologies.
We take security seriously. Whilst security procedures sometimes seem onerous and can often 'get in the way', we are experts at working with you to embed the best possible security practises that don't impact on your day-to-day operation. It's important to us that you're able to get on with what matters, focussing on your students. To help guide you, the ICO have created the below video:
At iCT4 we can provide a security audit free of charge and make recommendations based on our findings.



We are an ESET Silver partner, meaning we are able to offer industry-leading antivirus software at competitive prices with excellent support and full installation service. We are able to offer a FREE 30-day trial of ESET products.
As part of our Superfast Schools product, we work with Dell and others to create our secure filtering system. It allows access to the latest online resources whilst protecting staff and students from unsuitable content.
We are able to install and support CCTV systems, both traditional and IP-based, access control systems and can supply reasonably-priced ID cards, contact us to find out more!
Are you unsure as to how reliable your existing antirvirus is? Worried you might have an infection? Try the FREE system scanner from ESET - no license required, just click here to download the tool and scan your system now.
What else do we do?
---
"Having James at the end of the phone for remote support if we need him is a big help. iCT4 are always very approachable and professional."
The Peak Academy
Get in Touch
We'd love to hear from you and talk further about how iCT4 can help your school or business – please use the form to submit a message and we'll get back to you as soon as we can!


Our aim - TO EMPOWER USERS OF ALL AGES TO MAKE THE MOST OF ICT