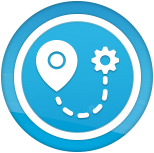 On-site Support
Totally flexible ICT support with packages to suit all budgets
Technology forms a crucial part of our lives in and out of school. It should engage and inspire students, introducing them to an authentic, worldwide audience and provide teachers with rich data and a powerful toolset with which to deliver lessons. Well-managed ICT starts with a Service-Level Agreement – the option to have an engineer visit your school to make sure your systems are working perfectly, reliable and secure. Your individual SLA will be totally designed around your needs and budget to ensure you receive the highest quality support possible at a price you can afford.
For schools that already have an on-site team, we can operate as their 'escalation point' - transferring issues to us to help during busy times, giving peace of mind in case the worst should happen. We can provide extra support for large projects such as server/cloud migrations, network upgrades and the rollout of new devices to the staff and students.
As part of our on-site support package iCT4 will provide your school with a high-quality ICT support service from experienced expert engineers - complementing any existing providers and support that you may currently have. We aim to help support and develop the ICT skills of your users and, if required, will also provide bespoke onsite training for your technical teams.
In addition to the above, we can provide advice and consultation for choices around curriculum software and the procurement and support of hardware, software, information management systems and audio visual equipment. We work with a wide range of schools and are always eager to share best practise and demonstrate 'what works'.
All of our staff have undergone an enhanced Criminal Record Bureau (DBS) check and a copy of our disclosure letter will be supplied to you prior to commencing our services.
Services available as part of your SLA:
Access to telephone support from your dedicated engineer as well as email support
---
Remote support – we will be able to access your server / desktop to help rectify problems remotely
---
Wired and WiFi network connectivity issues and internet services
---
Hardware troubleshooting, maintenance and repairs
---
Installation and configuration of servers
---
Installation and configuration of backup and disaster recovery solutions
---
Network configuration and management, including software installation, security and administration
---
Virtual Private Network (VPN) solutions, to enable staff to work from home
---
Working in partnership with the local authority support teams to provide installation, upgrade and support for SIMS.net and FMS software packages
---
Full ongoing support, training and implementation of SchoolComms messaging system
---
Consultancy service - this will enable you to maximise your current use of ICT and to highlight areas that could be improved. From these visits we will create a document outlining our findings with recommendations and quotations if appropriate over a three or five year period to help your school plan effectively.
---
Project management - we will project manage any implementation of new technologies
---
Quoting & ordering service - we will obtain competitive quotes and process the order, liaise on behalf of the school with third-party suppliers and contractors, and provide support and guidance on Government policies and procedures in relation to ICT
What else do we do?
---
"It was a pleasure working with ICT4 - your company's professionalism and expertise met in full all my expectations!"
Ninestiles Academy
Get in Touch
We'd love to hear from you and talk further about how iCT4 can help your school or business – please use the form to submit a message and we'll get back to you as soon as we can!


Our aim - TO EMPOWER USERS OF ALL AGES TO MAKE THE MOST OF ICT