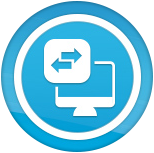 Remote Support
Sometimes budgets won't stretch to 'boots on the ground' but that doesn't mean you can't get help with your tech – that's where our remote support package comes in!
Available in two flavours, we can either connect to a central location (such as a test machine or a server) to help resolve technical issues OR for enhanced support we can install a small program on each machine to allow quicker, direct connection to client laptops, desktops, Apple Macs and PCs.
All remote support SLA packages offer ad-hoc on-site visits at a discounted rate, so even if you decide you want us to visit, you can be sure of great value!
What else do we do?
---
"Having James at the end of the phone for remote support if we need him is a big help. iCT4 are always very approachable and professional."
The Peak Academy
Get in Touch
We'd love to hear from you and talk further about how iCT4 can help your school or business – please use the form to submit a message and we'll get back to you as soon as we can!


Our aim - TO EMPOWER USERS OF ALL AGES TO MAKE THE MOST OF ICT