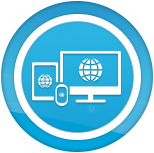 Website Design and Hosting
Make a statement and keep your community engaged.
In addition to being an important way to communicate with the wider school community and market your school, your school website must now hold certain information by law – this is being inspected by Ofsted and schools not found to be compliant are required to make immediate changes. At iCT4 we can design, build and maintain your website – starting from small 'micro-site' designs that aim to provide a virtual 'brochure' through to fully-fledged content management systems that can be updated by school personnel.
We work with a number of third parties to be able to offer a variety of services and different options to suit all needs and budgets. Get in touch with us to discuss how we can help!
What else do we do?
---
'ICT4 have been working with Threemilestone School for a number of years and we have developed a close working relationship with them. We have a weekly visit from their Engineer, who is very skilled and able to deal with all the issues which arise. He knows our system and the way which we work so well now, that he is able to pre-empt a lot of problems before they happen. Nothing is ever too much trouble. ICT4 have worked closely with us as a school and have even supported us with e-safety training for our staff and parents and computing training for our Year 6 teachers. Their ethos and values match ours very closely and, although we have used other suppliers in the past, we would now never willingly use anyone else.'
Threemilestone School
Get in Touch
We'd love to hear from you and talk further about how iCT4 can help your school or business – please use the form to submit a message and we'll get back to you as soon as we can!


Our aim - TO EMPOWER USERS OF ALL AGES TO MAKE THE MOST OF ICT